HHAW 2007 update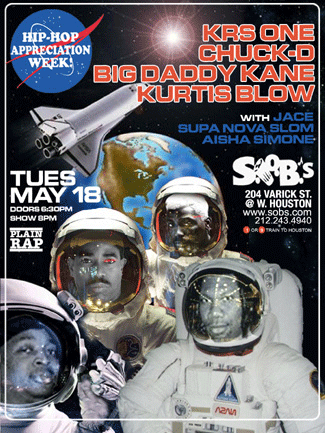 Prosegue fino a lunedi' prossimo la HIp Hop Appreciation Week del Temple Of Hip Hop di KRS-ONE the teacha. Purtroppo non sono riuscito a entrare nei forum del Temple perche' la mia password non funziona. Se volete provare voi stessi visitate il web del Temple Of Hip Hop
e seguite le istruzioni per la registrazione
Buona fortuna.
Per info:
http://it.wikipedia.org/wiki/Temple_of_Hip_Hop
http://allhiphop.com/hiphopnews/?ID=7038
http://boards.moby.com/viewtopic.php?p=188306&sid=180361cab18761951db9131f2debd67b
http://atlanta.metblogs.com/archives/2006/05/hiphop_apprecia.phtml
http://hiphopcongress.com/category/hip-hop-appreciation-week
http://newjersey.craigslist.org/tlg/328564490.html
http://hiphopconvention.meetup.com/34/calendar/5616417/
http://www.b-boys.com/search/Hip-hop+appreciation+week
http://www.gopetition.com/petitions/hiphop-appreciation-week.html
---
dalla pagina – http://www.derdan.com/entertainment.php – :
Hip Hop Appreciation Week Kicks Off May 13th in Atlanta
Posted on 06 May 2007
The Temple of Hiphop is gearing up for their 10th Annual Hip Hop Appreciation Week, which kicks off in Atlanta, GA from May 13-20.
"Honor" is the theme for this year's Hip Hop Appreciation Week, which the Temple of Hiphop launched to "celebrate the culture of Hip-Hop and to allow Hip-Hop fans to speak out about the truth of Hip-Hop and raise social awareness," according to a statement from the Temple, which was launched by rap legend KRS-One.
Throughout the week, different cities around the country produce events that create discussions around the concept of hope, engaging the youth, parents, educators, politicians and music fans through hip hop music and culture.
In Atlanta, special events will be held revolving around the theme of "Honor," such as the InSpirit Truth Center's 1st Inspirit Hip Hop Awards.
The Inspirit Awards, sponsored by the Inspirit Truth Center, the Temple of Hiphop and HIPHOP Ministries, Inc. will honor three leaders from the Hip-Hop community that have assisted in the "growth, development and preservation of Hip-Hop culture," according to a statement.
These year's honorees are Wanique Shabazz, Program Coordinator for WRFG 89.3FM radio in Atlanta, Dee Dee Cocheta-Williams, Hip-Hop Activist and
Jasz, Owner of Earwax Records.
Minister Server of the Temple of Hiphop will host the event, featuring live performances by Ishues, Lando, the Inspirit Youth Ministry and others.
The ceremony will take place May 13 at 10:30am at the Inspirit Truth Center.