Estratti da "La Cultura Hip Hop" di Huges Bazin, Besa Editrice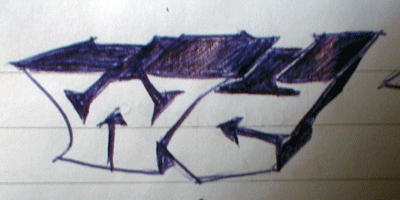 Dal libro "La Cultura Hip Hop" di Huges Bazin, Desclée de Brouwer, Paris 1995
" Lo hip e' un modo di parlare proprio dei ghetti neri d'America (dotato di un vocabolario, una sonorita' e un ritmo peculiari). La parola deriva da hep, che nel jive talk (gergo di strada) indica il fatto di essere trendy, di avere un atteggiamento cool; attesta il virtuosismo del locutore che ricerca l'ammirazione dell'ascoltatore. To hop vuol dire danzare; in associazione con lo hip , segnala come la danza sia stata la prima componente artistica a rendere visibile l'hip hop.
Hip e hoptraducono una sfida lanciata a se stessi e agli altri. La sfida e' un impulso che anima tutte le espressioni artistiche dell'hip hop. In qualsiasi campo, si trattera' sempre di arrivare piu' in alto, alla vetta: Hip hop, don't stop, till you reach the top! ( <<Hip hop, non fermarti finche' non raggiungi la vetta!>>).
L'hip hop possiede un linguaggio uno stile di vita, un modo di pensare, dei segni di riconoscimento, un sentimento di appartenenza rivendicata o attribuita, una storia, una memoria,una prospettiva e un'economia.
Questo elenco propone degli indicatori, la parte visibile di una cultura che possiamo mettere a fuoco volgendo lo sguardo sugli ultimi quindici anni. Ma forse e' importante ricordare che l'hip hop, come tutte le culture vive, e' frutto di un complesso di interazioni, e ha cosi' tante facce che non e' possibile abbracciarle con un solo sguardo. Per poterlo comprendere bisogna partecipare alla sua vita quotidiana e al processo della sua costruzione sociale, o almeno avvicinarne lo <<spirito>>.
[…]
Jeax: <<Scopo del writer non e' solo quello di scrivere il suo nome; tra gli obbiettivi c'e' anche l'affinamento della scrittura, una ricerca estetica. Due sono gli stili principali: il tag a lettere intrecciate e il tag a lettere staccate ed elaborate>>.
Kooce: <<Una lettera e' gia' per definizione un segno continuo; per realizzarlo meglio si possono usare delle linee curve, perche' ogni angolo retto ha bisogno di un interruzione del getto, e a seconda della distanza a cui ci si ferma si lascia un segno piu' o meno evidente. Invece le curve permettono di ottenere un profilo regolare e senza sbavature>>.
BDB: <<Ho fatto un toy perche' l'hanno fatto a me. La risposta e' automatica e richiede un messaggio molto hardcore>>.
Kooce: <<Tutti gli elementi rispondono ad alchimie sottili, e ci permettono di capire un po' il carattere del writer.Cosi' ci si conosce anche senza conoscersi>>.
Jeax: <<Quando fai tag sei portato a usare un sacco di strumenti diversi: la bomboletta, il pennarello, l'evidenziatore. Ti spingi verso la pittura, cerchi di provare tutti i prodotti esistenti cercando la soluzione migliore per ogni superficie. Cosi' diventi polivalente, ti evolvi, puoi passare al pennello e allo spray>>.
Kooce: <<La bomboletta ti permette di ignorare questi problemi, di superarli; questa e' la magia, il piacere della bomboletta. Si possono utilizzare le linee di una saracinesca come delle righe, oppure infrangere le barriere costituite dalla cornice di una finestra, dal passaggio da una superficie all'altra. In questo caso c'e' invece un piacere della trasgressione, di spezzare la regola; e' come venir fuori dalla cornice, restare a cavalcioni tra due superfici diverse>>.
Kooce: <<Nel silenzio della notte la bomboletta fa rumore; in una strada deserta si sente il suo pschitt, pschitt. Poi bisogna anche scuoterla ogni tanto, e fa kling, kling, gia' quando la trasporti fa rumore. Il pennarello invece e' totalmente silenzioso>>.
Kooce: <<La bomboletta da' un piacere veramente particolare; il fatto di sentire la pittura nebulizzata nell'aria e' qualcosa che va vissuto. Poi c'e' l'usura dello strumento, il fatto di vuotare, o meglio ammazzare la bomboletta. con il pennarello invece c'e' il piacere del contatto con la superficie, di vedere l'inchiostro che si posa e segue il gesto che hai impresso al pennarello. Io credo che nel tag, in qualunque modo sia fatto, si ritrovi il piacere dell'espressione grafica e della scrittura; quel piacere che gli specialisti giapponesi o cinesi della caligrafia trovano nella bellezza del gesto, qualcosa del genere>>. "
Trascrizione di THX