DJ Spooky @ COX 18 (MI) – 11 settembre 2008
fonte: https://noblogs.org/admin.php?op=blogSelect&blogId=676
Giovedì 11 Settembre 2008, DJ SPOOKY sarà ospite dei Centri Sociali milanesi Cantiere e COX18.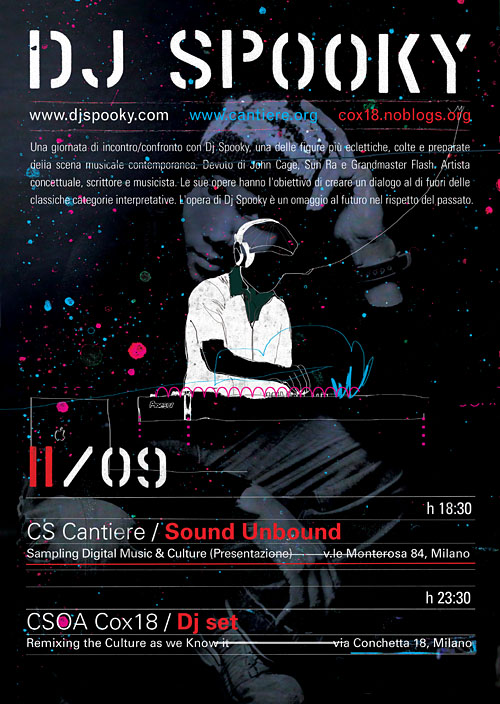 Dalle 18.30 DJ Spooky, il "dj filosofo", presenterà il suo Sound
Unbound, Sampling Digital Music & Culture, libro con cd, presso il
centro sociale Cantiere di Milano. "Intellettuale postmoderno", in
grado di riflettere alla perfezione lo spirito dei tempi e di indicare
nuove vie, applicando le proprie teorizzazioni in vari campi, Spooky
opera con estremo eclettismo dalla scrittura all'architettura, dalla
musica all'arte visiva. PRESENTAZIONE LIBRO + Q&A con l'autore.
Dalle 22.30, DJ Spooky sarà ai piatti in COX18. Dal punto di vista
musicale, Spooky elabora un appassionante mix di acrobazie soniche che
nascono dalla manipolazione virtuosistica dei vinili e dall'attento
ascolto delle vibrazioni che provengono dalla "strada". A tutto questo
Spooky aggiunge una cultura sterminata, che gli permette di permeare i
suoi dischi e i suoi dj set di riferimenti colti e sorprendenti.
Aprono e chiudono la serata DJ PAndaJ e Painé
BIOGRAFIA: Il nome fa riferimento ad un personaggio di William S.
Burroughs. DJ Spooky è lo pseudonimo di Paul D. Miller, uno dei
musicisti elettronici più eclettici, colti e preparati. Devoto a John
Cage, Sun Ra e Grandmaster Flash, è un artista concettuale, scrittore e
musicista che lavora a New York. Ha registrato un'enorme quantità di
musica e ha collaborato con una grande varietà di musicisti e
compositori, tra gli altri: Arto Lindasy, Iannis Xenakis, Ryuichi
Sakamoto, Butch Morris, Kool Keith aka Doctor Octagon, Pierre Boulez,
Philip Glass, Steve Reich, Yoko Ono, Thurston Moore dei Sonic Youth. La
sua versatilità artistica lo porta a creare un allestimento
audiovisuale per il Whitney Museum e lavora in altri contesti come la
Biennale di Venezia/Architettura, il Luwig Museum a Cologna, The Andy
Warhol Museum a Pittsburgh; come scrittore appare in The Village Voice,
Artforum, The Source, Paper Magazine ecc. La sua prima raccolta di
saggi, Rhythm Science, è stata pubblicata nel 2004 da M IT Press. E',
dopo Richard Pinhas, il musicista il cui lavoro è maggiormente
integrato dalla filosofia di Deleuze e Guattari che hanno teorizzato
l'incontro con la musica elettronica sperimentale. Per Dj Spooky la
musica è soprattutto creare strumenti per pensare, per dare alla gente
sistemi, per organizzare l'informazione al di fuori delle categorie
europee di razionalità. Il suo "remix" è un sistema operativo dove la
ripetizione è una sorta di omaggio al futuro nel rispetto del passato.
COX 18 – Via Conchetta 18 – Milano
02 58105688 / 02 89415976
cox18@inventati.org
http://cox18.noblogs.org