Shunda K of Yo! Majesty live @ Phag Off (Roma) 15 nov 2008
fonte: http://ladyfest-roma.noblogs.org/post/2008/11/12/shuna-k-of-yo-majesty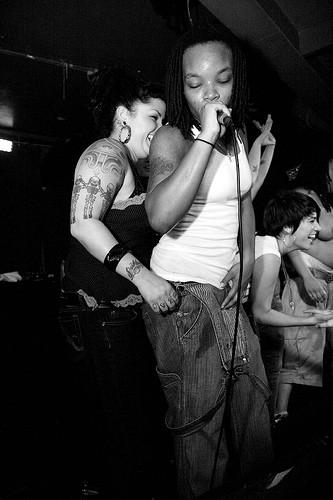 Lashunda Flowers__professionally known as Shunda K__è la leader di una delle formazioni più potenti di hip hop afroamericano di donne nel mondo.
Master of Cerimony, autrice ed ambiziosa imprenditrice, Shunda è riuscita a strappare un contratto con la famosissima Domino Records (Arctic Monkeys, Franz Ferdinand, The Kills)
Shunda sarà ospite sabato 15 novembre a PHAG OFF
Per l'occasione è stata intervistata da Giulia Anania
Shunda K oltre ad essere accredita come la più famosa Mc
Gay Hip-Hop è allo stesso tempo una fervente credente che con le sue rime
sparate vuole diffondere il messaggio del Signore.
"… Il mio primo disco è uscito nel 2003 con Dra
Records, un'etichetta cristiana in Okeechobee Florida. Ho usato il mio vero
nome e l' ho intitolato Ideal Female. In
quel periodo avevo sposato un uomo dopo
essere stata per più di cinque anni con donne(…)a questo punto è stata una
battaglia. Io non mi accettavo al 100%. Ho pregato Dio di ridarmi la mia
ex-moglie con un fioretto, non ho praticato sesso per tre mesi. Quando mi sono
separata da mio marito nel 2005, sono entrata ed uscita da relazioni con donne
e iniziavo ad essere veramente stanca di questa situazione. Stavo abusando di
me stessa e dovevo risolvere la situazione".

Shunda K nelle sue rime sparate porta un messaggio di amore
puro , di un Dio che non vede differenze nel creato e non si pone problemi su
identità e sessualità. Entriamo con questa intervista nella spiritualità di questa
incredibile artista e proviamo per un attimo a credere che sia come dice lei.

Oltre ad essere la regina indiscussa della scena Hip – Hop
femminile afro americana a livello internazionale sei anche un artista gay con
un innato amore per Dio di cui vuoi portare il messaggio tramite la tua musica.
In Italia il binomio omosessuale-cristiano suona
immediatamente sbagliato.
Ciò è dovuto a un rifiuto ufficiale da parte della chiesa
nei confronti dei gay che sembrano quasi non dover esistere senza dimenticare
le continue pressioni da parte del Vaticano sullo Stato per impedire il
riconoscimento di pari diritti per le coppie.
Che consigli puoi dare alla comunità gay italiana per
aiutarla a riconciliarsi con il Signore?
Prima di tutto
Dio non e' religioso ed e' un Dio d'amore.
Io sono cresciuta pensando di essere un
abominio agli occhi di Dio a causa delle mie preferenze sessuali ma sono
cambiata da quando ho sviluppato la mia relazione personale con Dio e ho capito
che il signore mi ama esattamente per come sono.
La gente ha
bisogno di imparare ad amarsi… perché se non ti ami non puoi amare
nemmeno me.
Soprattutto,
io direi semplicemente alla gente di avvicinarsi a Cristo per se stessi perché
lui è l'unico che può aiutarti o distruggerti.
Io guardo la
mia vita e come Dio la sta benedicendo. Come Dio benedice le Yo! Makesty e lo
ringrazio per questo.
Voglio dire,
io sono stata sposata con un uomo a
sarei potuta diventare una cantante Gospel poiché era ciò che facevo quando
stavo con lui.Nulla mi ha portato alla fama finché non ho
mollato il suo culo, ma ho mantenuto la mia relazione con Dio e ho imparato a
mantenerla reale e vera per me stessa… smettendola di provare a compiacere
tutti coloro che avevano idee su di me o volevano mi comportassi in un
modo piuttosto che in un altro!!!
Nell' immaginario collettivo il mondo Hip-Hop è costituito
da machi e da puttane al loro servizio. Attraverso quali mezzi cerchi di sovvertire tale stereotipo?
Attraverso lo
"Shunda K Movement" sto insegnando agli uomini come amare le loro
mogli e alle donne come amare i loro
mariti, ai bambini come obbedire ai loro genitori e a tutti come essere integri
e avere carattere e morale.
Io sono un
esempio vivente dell'imperfezione e la gente si identifica con me proprio per
questo dandomi la possibilità di guidarla….
L'unica
percezione è rappresentata da Gesù Cristo e arriva a noi attraverso anni
di insegnamento e comprensione, anni di prove e fatiche che ci fanno diventare
ciò che siamo.
Quindi
nondimeno è nostra responsabilità (di tutte le musiciste e i musicisti) di fare
la cosa giusta e promuovere la positività attraverso l'amore e attraverso le
nostre abilità musicali.
E per tutti quelli che non lo fanno, arriverà
il tempo in cui dovranno mettersi da parte lasciando il passo a chi è
interessato a ristabilire un rapporto con la nostra terra per ricostruire il
mondo !!!
Hai scelto di intraprendere la carriera solista lasciando
shockati i tuoi fan.Cosa cambierà nella tua musica e nel tuo messaggio?
Io devo
continuare a muovermi poiché sto crescendo e maturando.
Non sono la stessa Shunda K di Yo
Majesty che ero lo
scorso anno e gli anni precedenti.
Sto crescendo in conoscenza,
consapevolezza e comprensione perché questo è il volere di Dio per la mia vita
e poiché o sono una messaggera creata paificamente per sostenere la gente attraverso il rap ed essere la
testimonianza del sacrificio umano quotidiano perché propongo la fede.
Questa è la
via che il Signore mi sta indicando in questo momento della mia vita.
Yo Majesty non
e' ciò che era quando l' ho creato nel 1998 come progetto solista.
Adesso con il conflitto tra me e Jwl (L'altra
rapper di Yo! Majesty N.d.t.), Yo Majesty è divisa ed entrambe sappiamo che una
casa divisa non può stare in piedi.
Si va oltre i
problemi personali … Si parla di problemi spirituali e io sono stanca
del dramma e delle false rappresentazioni che lei produce attraverso le sue
azioni.
Ora sembra di stare in tour con un circo e io non posso essere
associata a gente che non e' veramente sincera …. che dice una cosa e ne fa
un'altra.
Io ho una responsabilità anche rispetto a Yo Majesty che mi
appartiene … Non la sto abbandonando ma credo che Dio mi abbia dato
l'autorità di riunirla per progetti futuri.
Quindi i miei piani futuri con Yo Majesty saranno quelli di
usarla come una piattaforma per promuovere artisti che hanno bisogno di essere
ascoltati in tutto il mondo.
Per adesso e' solo un' idea . Vedremo !!!
Nel frattempo io mi devo tenere in movimento perchè la gente ha bisogno di
sapere la verità e come puoi veder e e sentire, io non ho paura di dirla
!!!
Qualsiasi cosa succeda a Yo!
Majesty, Shunda, come individuo sente la responsabilità della gente a cui
comunica, senza nessuna scusa o attenuante.
"Io non sto sulla scena per farcela perché qualche figlio
di puttana mi ha detto quello che devo fare per spaccare nel music business. Il
demonio è un ingannatore!"
Pace e amore vero
Shunda K
Grazie infinite ci vediamo Sabato!!

PHAG OFF
THE ULTIMATE QUEER XPERIENCE
RADIO CAFE Via Principe umberto 67 – Piazza Vittorio – ROMA