How to Cratedig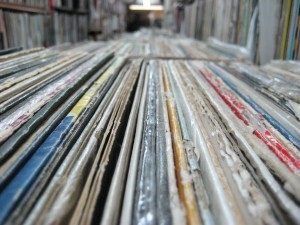 This article was taken from the October 2012 issue of  Wired magazine.
Cratedigging is the fine art of collecting records. Actual physical records — remember those? Going into a dusty shop piled high with vinyl may seem baffling, but your time and patience could be rewarded with stunning music and potential investments. "The British are a collector people — from stamps to marbles, we've got it in our blood," says cratedigger and DJ Gilles Peterson. "And vinyl records have such a three-dimensional collectability — you've got the art, you've got the more trainspotter side, such as catalogue numbers, and you've got the music."
Look abroad
"Having pretty much sucked Europe and most of North and South America dry, I think the interesting places now are the Middle East, Africa and places in Central America," Peterson says. "Like Colombia and Haiti: places that previously would have been considered tricky to go to. Certain countries had entire industries dedicated to their music, but it was self-contained for years and years." For those seeking samples, Peterson recommends Arabic records and Italian library music for undiscovered breaks.
Check the label
The presence on a record of a talented producer or some interesting backing players can really help to tip you off to a find. But although a good card sleeve can indicate quality, don't judge a record by its cover. "The B-side of a record is where I always go to first, or to track ten on the CD," Peterson says. "You get a better idea of what an artist is really like at the end of a record rather than from the beginning. They tend to put their more adventurous music there for some reason."
Go Micro
The US still has plenty of un-rummaged-through territory, though: "Where country, blues and doo-wop all fuse in the 50s and 60s, there's loads of great, weird and interesting stuff that's been found by very small scenes," Peterson says. "Every small town in America would have its own record-cutting place, and little bands would cut records and put them out to a radio station. Most of them wouldn't make it, and the records were put in a loft. If you can find them, they're amazing."
Buy new records
New limited releases, with lush packaging, are tomorrow's cratedigging finds. "The antithesis of today's throwaway nature of being able to get music instantly online is that there's been a real rise in well-presented box sets, which you just wouldn't have had 15 years ago," says Peterson. "You can be clever about buying stuff up and putting it aside, and waiting ten years for it to go up in value. There'll always be a market, just as there's always a market for rare wines."